The trend is user-generated content and the maximum use of digital technologies.
Facebook's creative team believes that the pandemic has pushed brands to accelerate digitalization, leading to innovative ways to use social media and run advertising campaigns.
One of the trends is the collaboration of brands with bloggers who help create content. Such advertising works better than the classic mention of a brand by a millionaire blogger.
For example, the cosmetics brand Sephora, launching an advertising campaign for new fragrances, turned to micro-influencers who are engaged in augmented reality technologies and 3D modeling for help. 
The company wanted to move away from the use of advertising clichés and focus on something new. The visual component was supposed to be fruits and flowers, on the basis of which the aromas were created. 
Bloggers developed visuals (masks) for the brand on Instagram, and this campaign stood out in a crowded market. 
The advertising, which was created by the bloggers themselves, helped the fragrance collection to become the leader in terms of sales in the market, overtaking the products of Dior and Chanel.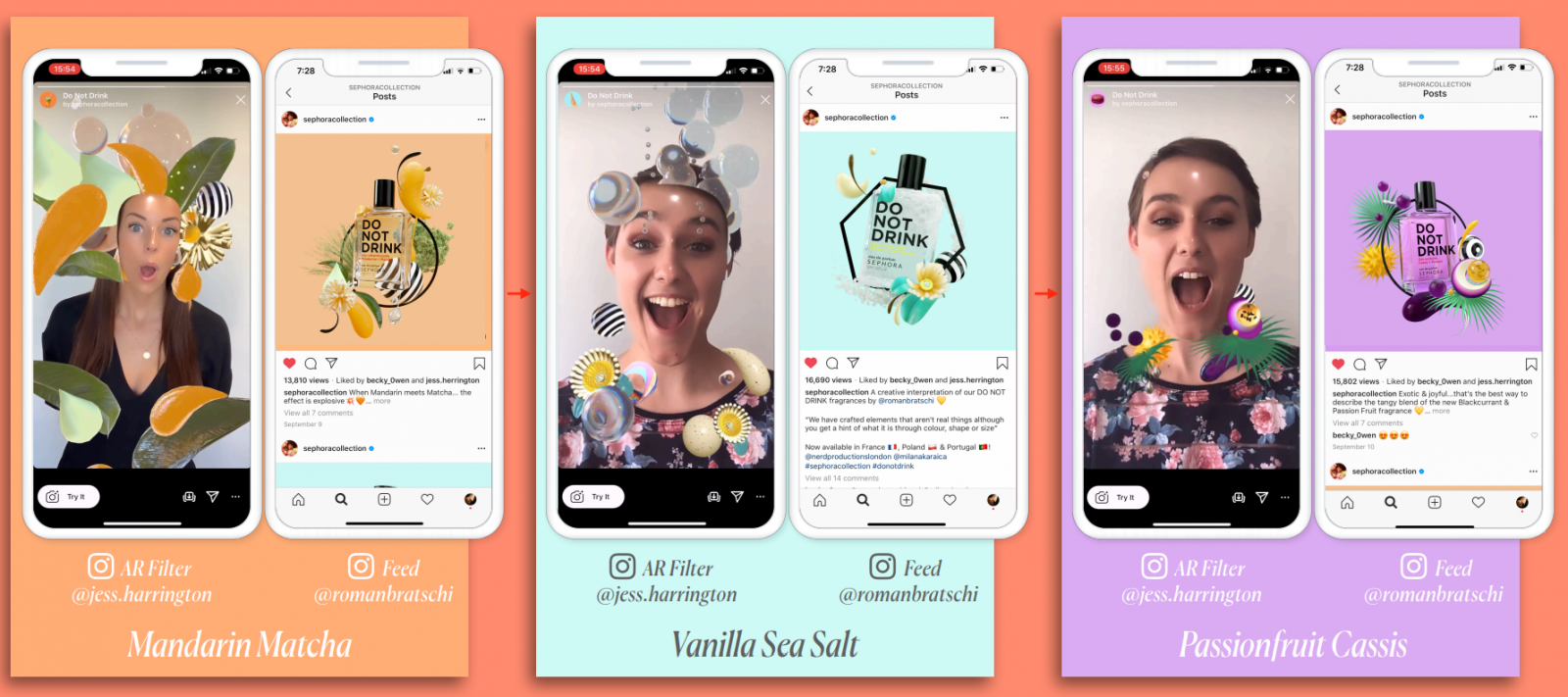 The fact that the use of augmented reality technologies in marketing is effective is evidenced by the results of a study by the City University of Hong Kong and the Singapore University of Management. 
AR can increase customer loyalty, increase sales and move customers from offline to the Internet, as well as develop an online sales channel.
In addition, the creative department of Facebook notes another trend that concerns online shopping: brands are increasingly "pulling" the benefits of offline shopping into it.
For example, Facebook, along with the Korean mall MDS, launched live shopping. Bloggers tried on clothes from the new collection and answered questions from the audience. And those, in turn, could immediately place an order in Messenger from Facebook. 
By interacting with buyers, Facebook collected the necessary user data – this subsequently helped to carry out several successful advertising campaigns.
It is noted that these trends work together most effectively. For example, L'Oreal hosted an online festival that invited over 100 bloggers. 
They themselves became part of the live event. Viewers could get answers to any questions in real-time in Messenger and place an order. The ad campaign increased the brand's daily sales by 400%.