Inspiration and observation are , of course, good things. But when developing content, you can't rely on them alone. Scheduling is a useful tool that helps content managers not rack their brains looking for interesting news and not think 5 minutes before publishing what to tell people.
So how do you put together a content plan correctly?
General rules when drawing up a content plan
Let's start with the basics. Despite its versatility, the content plan for each area and organization is individual. In order to competently plan publications, you need to know your industry, audience preferences, study statistics, and much more.
Check out our checklist of rules that will get you closer to creating a quality content plan:
Research your industry . Any planning begins with this. Why this is needed – let's look at a simple example. In the banking sector, any letters, publications and news must be coordinated with many departments (from marketing to lawyers), and accordingly, it is not worthwhile to draw up a "fun" content plan with inconsistent publications. For your convenience and to avoid problems, start by examining how publishing works in your field.
Analyze . This applies to everything related to publications: at what time the news is read more actively, on what days your audience is most responsive, etc. Analytics is a true friend of any content manager.
Meet the competition . It is best to target competitors specifically from your area: with a related (or similar) audience and similar content. This will allow you to better understand your potential subscribers.
Test . Modern services allow you to run an endless number of A / B tests to help you plan your publications wisely.
Select and agree on a period . The content plan can be either for a month or for several days. Choose (based on the previous points) the optimal period in which the planning of publications will be convenient and relevant.
Don't be afraid to make adjustments . Of course, there are areas in which adjusting the content plan is a difficult process. Leave yourself room for quick fixes to keep your posts up-to-date.
Now let's move on to a step-by-step guide on how to create a content plan for the most popular sites.
Content plan for Instagram and other social networks
When drawing up a content plan for social networks, first of all, you need to remember about a quick response. Even if your sphere is stable, and everything is clear from the posts in advance, this does not negate the fact that in the middle of the month a prompt response to a particular situation may be required. And it's not at all a fact that this can be limited to one post. What to keep in mind when scheduling posts on Instagram and other social networks?
Decide on the frequency . Two posts a day or one post a week? Study the activity of your subscribers, observe their reaction to the absence of posts (if you plan one post a week – will they forget about you during this time?) And decide how much information and how often you plan to post.
Don't take too long periods . If it is important for you to make a content plan for a month, leave specifics for the first two weeks of planning. It is better to mark the remaining period with general topics and directions, and add specific posts based on the past period. This way you can stay relevant within your topic.
Dilute content with date binding . This will help you provoke your subscribers to follow the content not only on active days on posts. Use holidays or limited time frames for promotions. For example: "On April 12, you will have a space discount!" – such a call will encourage your subscribers to check your account on a specific day.
Don't forget about Instagram and social media tools . When planning, you shouldn't just be limited to posts – Stories, IGTV, and other social media tools can also be planned. You can start by duplicating posts in stories, and over time, you can make your content more diverse.
Check with the launched RCs . This is especially true for campaigns that link to the account (or group) itself in social networks. For example, if you give RK for some kind of promotion, and upon switching to the account, the user does not find a single post about it, it is highly likely that he will perceive it as a deception. Check with the ads that are running and don't forget to confirm them with posts.
Leave room for maneuver . There are always force majeure events, urgent events in your field, or just emerging trends. Leave room in your content plan for new, unplanned posts.
Blog content plan
Take an ad agency blog as an example. Articles should be published on relevant topics, answer questions from potential buyers of services and show the professionalism of the agency. What are the important rules to follow when creating a content plan for an information blog?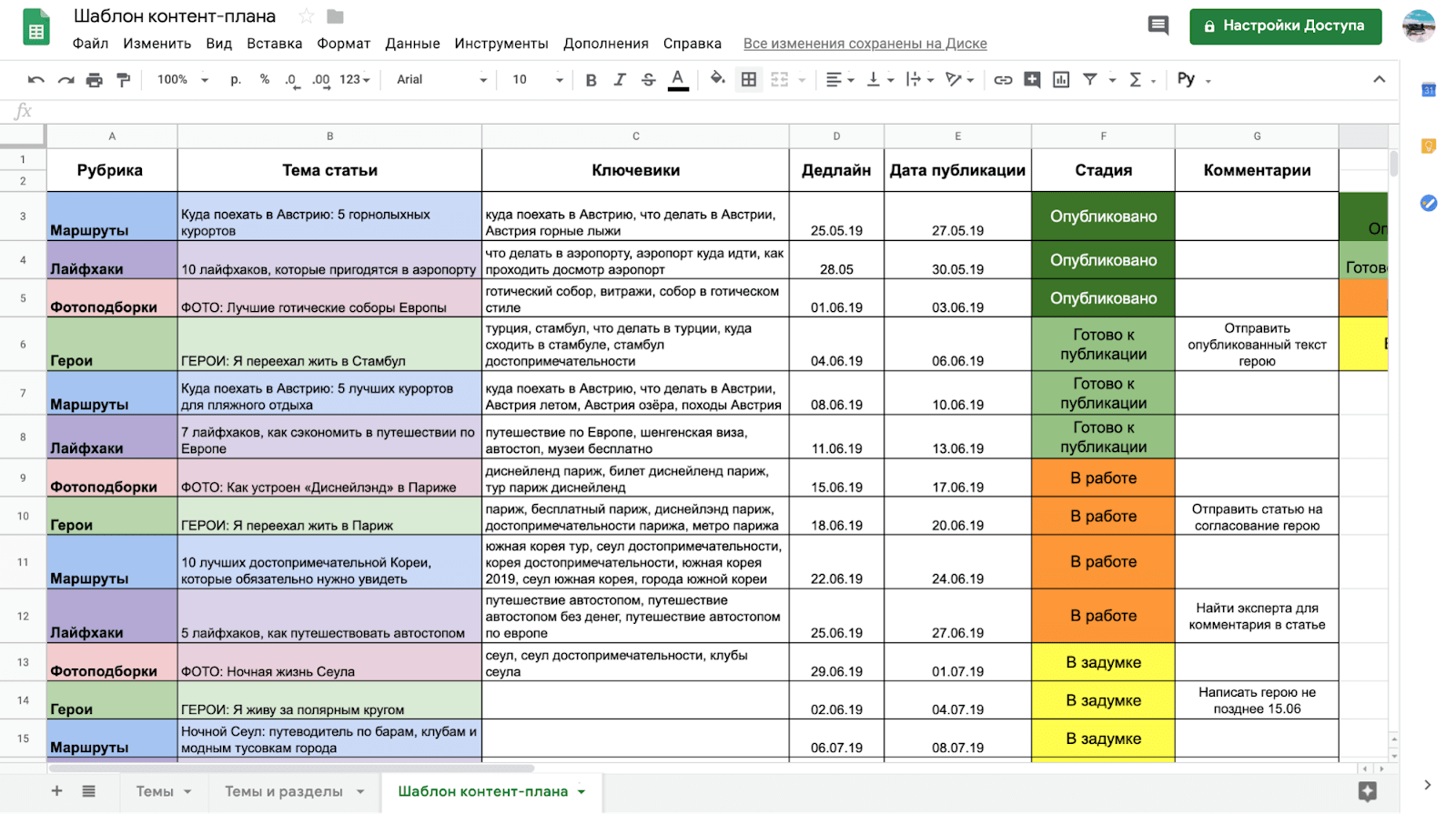 Divide your content plan by employee . This applies primarily to those blogs where there are freelance authors. It can be very difficult to control the output of all publications, so it is better to divide your planning by industry "Own Authors" and "Freelance Authors". This will make it easier for yourself to communicate with the performers.
Keep track of the deadlines . Any article must have a deadline for submission and publication. To do this, fix the date of setting the TK in your content plan and indicate in advance how long the author should complete it.
Record the stages of work . In order not to ask the authors again, mark in your content plan which articles are in the process of writing, which ones have been submitted and are awaiting publication, and which ones have already been published.
Explore analytics . Yes, we will not get tired of talking about her! Look at what types of articles get the most views and comments (as practice shows, most often these are checklists, manuals and cases). Try to categorize the most popular formats by author and include articles in your content plan.
Support completed work with links . In order not to look for confirmation of the work done in your blog, put a link to the document immediately in your content plan (and after publication, give a link to the material on the site). Structuring is useful for any planning.
Content plan for e-mail newsletters
First of all, in e-mail marketing, it is important to plan newsletters and product mailings. Push, chaining, and automated emails are all part of the overall plan, but are completely independent of the time or day of the week. Let's talk about how to properly plan interesting mailings:
Segment your base . And distribute content based on the selected segments. This is especially true for companies with a large subscriber base. If you make different content for each segment , this should be indicated in your plan.
Synchronize newsletters with your blog and website . New articles out? Write a compilation letter. Have new items arrived? You can inform your subscribers about this. When planning e-mail newsletters, look into the content plans of SMM and site administrators.
Do not overdo it . Especially if you have a set of email conversations. Nobody likes a pile of messages in their inbox. Here point "1" can come to the rescue – in a segment in which a large number of chains are configured, you can conduct mailings less often.
Alternate types of letters . If the availability of content allows, it is better to do a variety of mailings and alternate topics. Do not forget to indicate in the subject line what format it is: checklist, collection, etc.
Watch out for preheaders . They are just as important as the email headers. It is a good idea to include them in your content plan along with themes. This will help you to better navigate and modify the headings without losing the meaning of the letter.
Content plan for an online store
Filling in product cards, publishing news, marks about new products and promotions – an online store requires no less content planning than a blog or social network. Where to start a content plan for an online store?
Make friends with the supply department . Ideally, you should be informed of all upcoming receipts (delivery schedule). Thanks to this, you will be able to plan filling in product cards and adding positions to the site.
Automate labels . Talk to tech support about how you can automatically add tags to products on your platform. For example, if you have added a new position, a new icon may automatically appear on it, which will accompany the card during the specified time.
Segment and prioritize big data . This applies to online stores with a large number of positions. Each product should have a priority (this may depend on the sales plan or additional motivation of the supplier), then you will not have to issue information in an unstructured array.
Include a schedule for filling the cards in your content plan . If a vendor provides product data in stages, it is a good idea to incorporate this into their content plan. For example, first of all you add photos and specifications, respectively, the product description can be postponed for the next week of the plan.
Prepare news ahead of time . If your online store has a news and newsfeed section, prepare the text and pictures in advance. This will make your future work easier. It also frees up time for unloading new goods.
A content plan is a very useful working tool for both small and large companies. Experiment, analyze and choose the most convenient format for planning your content.
Still have questions?
Didn't find the answer to your question? Ask questions that interest you in the comments, Convert Monster specialists will promptly answer them.