Today we'll talk about how to make your product pages clear and user-friendly.
Driving traffic to your website is only half the battle. This is a daunting task in and of itself, but much more needs to be done in order for you to truly increase sales.
Take a moment to put yourself in the user's shoes.
Obviously, he is somewhat interested in what you are selling. Maybe he found you by a simple search for the product he needed, or maybe he clicked on an advertisement on the YAN or KMS sites. Perhaps he found your site on a social network.
How he found you doesn't really matter. What matters is that it ended up on your site because of interest.
You've done a great job of customizing your site navigation, making it easier for your visitors to find exactly what they're looking for. This leads them to the product page, which we will focus on in this guide.
Here's what you need to realize. When a website visitor lands on your product page, they are often one click away from completing the purchase process. But that won't happen if those landing pages aren't optimized for conversions.
Failure to properly design and optimize product pages is a mistake that e-commerce sites make all the time. This is what inspired me to write this guide.
I'll explain everything you need to know about creating product pages that drive conversions.
Product page elements
Before we proceed, I want to make sure you understand exactly what needs to be added to each product page. All product pages must have the same elements.
Above all, your product should always be in the spotlight. While this may seem obvious, we see some sites clogging up the entire content area with text and posting a very small product photo.
Branding should be everywhere on your site. While you might have a branding on your site's home page or other internal pages, you can't forget to add that to your product pages. Depending on where your traffic is coming from, not everyone who lands on your product page will see your home page.
Website design is one of the most important elements of a product page. Even if you include all the other correct elements, it is useless if the design is not functional and user-friendly.
You cannot sell products without text. This is why sales copywriting is a critical element. The text and its message should work with your design and branding to tie it all together.
Now that you know what should be on your product pages, let's take a look at some more specific tips for optimizing your product page.
Make sure your CTA is clear and obvious
How does someone buy an item from your item page?
They need to click on a button that allows them to check. But if that button is buried somewhere on the page, you won't be making as many conversions.
Take a look at this product page from Blenders glasses.
There is only one button on this whole page that you can click – add to cart.
It is large, bold and the only text on the screen correlates with the background color. In fact, apart from the product itself, the CTA is the most prominent part of the page here. This cannot be overlooked.
Go to your website and look at your product pages. See if your CTA is as clear and obvious as this one.
If your visitors can't immediately identify the button, that's a problem.
Your CTA should be visible at all times. If users have to scroll to find it, then it won't have a high conversion rate.
Here's what else to keep in mind. Don't list conversion CTAs next to other CTAs on your site. For example, the Buy Now button should not be located next to the Subscribe button.
The email newsletter is important, it shouldn't go beyond your product page, and of course it shouldn't be one that distracts attention from your transactional CTA.
Don't get too cute or quirky with your call to action. Something like "buy now" or "add to cart" is just fine. Trying to get creative here can just confuse your customers.
Use professional photography
Unlike retail and retail, online consumers rely heavily on images to make purchasing decisions.
Your phone can take great pictures, but you shouldn't use it for product photography. Everything should be handled by a professional. It is worth investing in this job for the best chance. You will need to take photos from every possible angle.
With that said, you also need to make sure you are taking the "right" photos for your product pages.
For example, let's say you sell something like a wristwatch. Photographing the clock alone on the table doesn't really do much good to the consumer. But if you put it on someone's wrist, it will give the user a better idea of ​​what the product will look like if they buy it. This practice is used in most online clothing stores.
Take a look at the images on this product page from MVMT.
They used the "correct" images because all of the images show the product on a person's wrist.
You can see how it looks from every angle. The first image shows what it looks like from the first person perspective of the model looking down to check the time. He then includes some other snapshots of how it would look from someone else's point of view.
Oh yeah, they even show you what the watch looks like if you jump out of the plane.
These photos tell the complete story of the product. It is stylish, looks great and can be worn in both casual wear and active wear.
Include social proof
No matter how independent or unique a person claims to be, consumers will still follow the lead of others. Why would they buy a product if no one else has it?
They will have no way of knowing if your product is good, useful, or just a waste of their money. If they can't get the answers to these questions, then they probably won't buy.
This is why you need to reflect social proof on your product pages. 84% of people trust an online review as much as a friend's recommendation. After reading one to six reviews, 68% of customers form an opinion on a brand or product.
Your job is to encourage customer reviews. After someone makes a purchase, send a follow-up email or sms and ask them to rate the product and service. The more reviews you get, the better.
Blenders Eyewear, one of the examples we looked at earlier, had reviews on their product page. Just make sure the reviews don't distract the user from the purchase.
Here's another example of this strategy used by Brooks.
This product has 68 reviews and customers rated it 5/5 stars. You can see this information next to the product description.
However, real reviews are not shown here. If you click on them, it will take you to the bottom of the page.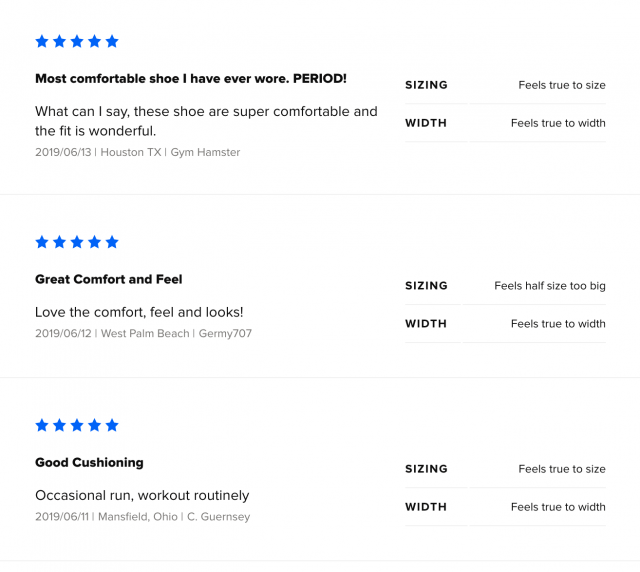 If they were posted elsewhere on the page, it would be too distracting and take away from the product and the CTA. But by including some information above the description and giving customers easy access to reviews, it helps them make a buying decision.
Visitors can do all of this without having to go to another landing page or third-party sites to view.
Add video
If a picture is worth 1000 words, how much is a video worth?
Earlier, I explained the importance of giving your customers a better understanding of your products through images. But the video does give them a closer look at everything.
A video can showcase your products more than a picture.
70% of marketers say video converts higher than any other type of content. It is useful for all users to watch the product in action, not just the photos.
After watching a video, 64% of consumers buy the product more often.
Take a look at this sample product page from GoPro.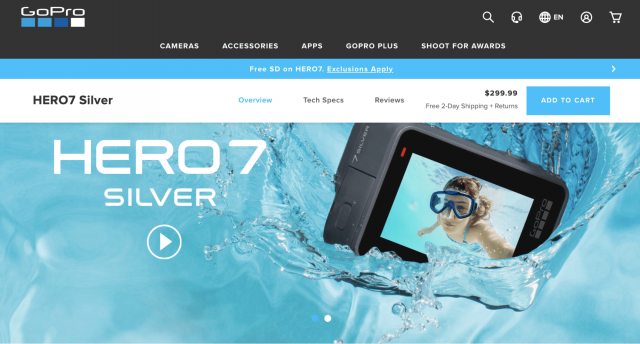 The video is especially important for this company as they sell the camera on this page. The video shows what type of content can be captured by this camera.
The video is great for those of you with products that need a little more explanation. This isn't necessary if you're selling something as simple as a plain shirt.
But with that said, you can still add a video, even if you're selling something simple. Asos posts videos of models wearing their clothes on its product pages.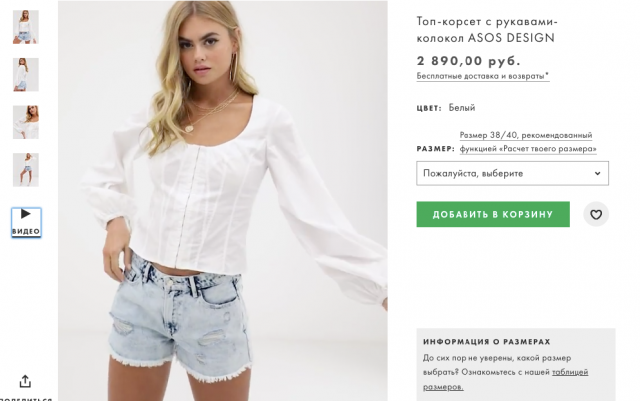 For those of you with a product that is a little more complex and requires more explanation, adding a how-to video or product demo can be very beneficial to the consumer.
Think carefully about product descriptions
This is one of the most common mistakes I see on ecommerce product pages. Everything looks great before the description.
While your product page should definitely be visually appealing with photos and videos, you still need some text on it.
Keep it short. Don't go overboard with long paragraphs. Nobody wants to read large blocks of text. You can use bullets to shorten content and make it easier to read.
Install a branded voice. Know your audience and what they want to hear.
Understand your customers and what they want in the product. Then include that in the description. If your target audience is 45+ professors, then you shouldn't write in slang for university students.
Justify your prices
Your pricing policy is part of your product page, as the price obviously needs to be on display.
This is your chance to justify your prices and show the value of your product.
The description, photos, videos, and everything else on this page should explain exactly why your product has a certain price. This is especially true for those of you who sell products at higher prices.
Take a look at this example from Lululemon.

They have a quick description of why we did it right for the price.
In short, it explains that the product has no seams, is made with anti-odor technology, is ventilated and designed for training.
This isn't just a regular T-shirt to wear at home or to sleep. So the high price tag of $ 68 for a seemingly simple shirt is well worth it.
Without this information, consumers may be more reluctant to buy.
A / B check everything
In truth, you don't know for sure if your product page is fully optimized until you try other approaches.
This is why every element of the page must be A / B checked over and over again.
CTA wording;
CTA placement;
CTA color;
Description;
Accommodation overview;
Price placement;
Price size.
There is no end to this list. This is an ongoing process.
Even if your conversion rates are on the rise, don't assume they can't be higher. Keep running tests to be sure.
Conclusion
Product pages are the most important components of your website.
When a visitor lands on one of these pages, they are a few steps away from a purchase conversion. Your job is to make sure that every product page is optimized to increase sales.
Use this guide as a reference to make sure your pages have all the required elements. Then follow the examples I gave and apply the same principles to your website.